Elite Construction & Roofing Denver, CO | Roof Installation FAQ: Most Common Questions About Roof Installation
May 6
A new roof can be a big investment for any business owner or homeowner. We understand that you might have many questions surrounding your upcoming roof installation project. Fortunately for you, as your local roofing company, we have put together a blog that includes some of the most frequently asked questions to make it easier on you!
What should be included in a new roof estimate?
Every roofing estimate for new roof installation should include some basic information such as:
Basic company information
Estimated project timeline
Itemized costs of the roofing services (labor, materials, cleanup, and tax)
Business license number
A roofing estimate should be extremely detailed. It should also be easy to follow and understand. If you feel like your estimate isn't detailed enough or you need clarification on anything, don't be afraid to ask your roofing contractor to explain the roofing estimate they have provided. Usually, they'll be happy to explain and answer any questions you may have! If they don't, then it's best to look for another company to handle your project. You don't want to work with someone who isn't good at communicating. It's important to ensure you're feeling 100% confident before hiring a roofing installation company!
What are some signs that I need a new roof?
A roof is one of the most important structures in a home, and it's important to keep it maintained and fix any issues that may arise! Here are a few signs that you may need a new roof:
Your shingles are missing, curling, or broken.
Your roof is over 20 years old.
You notice signs of roof rot, moss, or mold.
Your flashing is damaged or compromised.
Missing granules.
You notice wet spots or other water damage in your home (ceilings, attic, etc.).
Your roof is sagging.
It's extremely important to look out for these signs and attend to them immediately. A roofing professional will be able to complete a roof inspection and advise you on whether you can get roof repair or if you need a roof replacement.
How do I choose a roofing contractor?
When you decide that it's time for a new roof, you want to begin researching local roofing companies. With so many to choose from, how do you choose the right one? Here are a few ways you can find a qualified roofing contractor near you to handle your project:
Ask family, friends, or neighbors for recommendations.
Read through online reviews (customer satisfaction ratings).
Set up interviews with multiple companies, and don't be afraid to ask questions! (ex: Years of experience? Portfolio? References? Quality products? etc.)
Make sure the companies you're considering are licensed and insured.
It's important to ask all the questions you may have and be extremely thorough when choosing a roofing contractor. A new entire roof will be a significant investment, so you should not trust it to just anyone.
How long does roof installation take?
There is no one answer to this question. The time it takes for a roof installation will depend on the size of your home, weather, roof-style, roofing materials you want, and the overall complexity of your roofing project. New roof installations can take anywhere between a day to a few weeks to complete. Your roofing contractor will be able to assess your situation and provide you with a more specific timeline.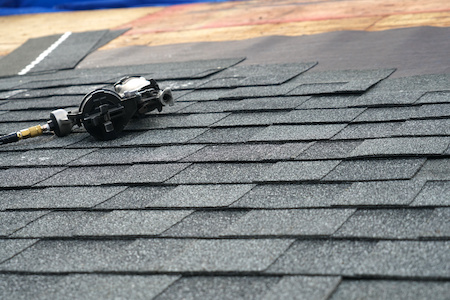 Do I need to do anything to prepare for the new roof installation?
There are some ways you can prepare your home and family for a new roof installation. Here are a few tips:
Consider kids and pets (it's going to be noisy).
Relocate your vehicles away from your home (this will prevent possible damage to your vehicles from falling debris).
Move grills and other patio furniture away from the work zone.
Remove wall decorations (vibrations can make them fall).
Your roofing contractor will be able to advise you on additional preparations depending on your project size and timeline.
How long will a new roof last?
A new roof is a big investment, so you want to make sure you're getting the most out of it. It can last anywhere from 10-20 years, but that number can vary greatly depending on the material used, the climate, and how well it's maintained.
How can I make my roof last longer?
No roof lasts forever, and you will need to replace your current roof at some point. There are some ways you can extend the life of your roof, such as:
Regularly getting your roof inspected.
Complete any roofing repair for damages immediately after discovering them.
Trim overhanging branches that are near your roof.
Clean gutters regularly.
Prevent ice dams.
These are just a few things you can do in order to prolong the lifespan of your new roof.
Call Elite Construction and Roofing!
There is no room for error when it comes to your home or business's safety and security. That's why we only hire knowledgeable roofing experts who know how to work with different types of roofs. We will make sure that your roof lasts as long as possible while also making sure that your home looks beautiful on the outside too!
Our team of experienced professionals is committed to providing the highest quality workmanship on time and within budget. We are dedicated to making your residential roofing and commercial roofing project a success by working closely with you through every step of the process. You can count on us for dependable service, clear communication and teamwork. If you're looking for a team of experts who have a commitment to quality you can rely on to install your new roof, don't hesitate to call Elite Construction & Roofing today!
We also offer other quality services, including roof repair, metal roof installation, metal roof repair, help with insurance claims, and much more! Call us for residential roofing services and commercial roofing services!

Things To Do In Denver, CO 
Denver, CO News